Current Exploration: Exploring Dreams.
In this exploration, the objective is to step on a common but very mysterious territory: the realm of dreams. That same place we all go every night and yet know so little about.
The exploration is described from scratch. For recollecting the initial data and preparing and route plan, to entering the dream territory and journal about it.
Frugal Science is about the benefits of exploring, meaning: we are not much concerned about unveiling the mystery of dreams but to learn to see dream in a new way and the effect this way of discovering things  has on us – which is, I assure you, worth the trip.
So, the Meta objective is to learn to see things differently, even those things we have being watching – but, maybe, not seeing – all along.
I hope you enjoy it.
—————————————————————————————————————————–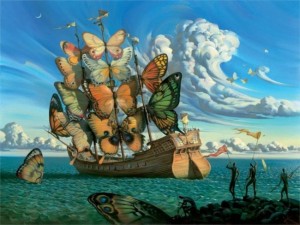 After making a list of 10 possible points of interest, I asked my youngest son to randomly pick one, and the selected one was… dreams.
Exploration destination: the realm of dreams.
—————————————————————————————————————————
What are dreams made of? What's the nature of dreams? If we are going to make an attempt for exploring the realm of dreams, Wouldn't it be preferable to have an idea of the terrain conditions?
—————————————————————————————————————————-
We must remember dreams if we are going to explore them. As stated before, exploring is about learning and you can't learn what you don't remember.
—————————————————————————————————————————-
I founded difficult to write about the hippocampus' function without falling into scientific jargon or too technical descriptions until receiving the help of Doris,
—————————————————————————————————————————–