About

What is Frugal Science About?
Frugal Science is about helping you rediscover your exploring nature and enjoying the benefits of looking life in a different way.
Exploring is not about a set of abilities some expert in survival uses in extreme events. Not at all!
We humans are built with a natural exploring ability inside. We all can become a true explorer –it's our nature-, all we need is to do is activate the explorer inside of us, and Frugal Science's mission is to let you know how.
And confront the Crocodile Dundee archetype.
What does Frugal Science mean?
The term comes from a phrase within a book called "The Perfect Explorer Handbook" in which the author states: "All you need to become a true explorer is a mindful attention and some FRUGAL SCIENCE. Everything else is accessory". Click the next link if you want to read the cartoon version of the story.
In this context, Frugal Science means (liberal translation): the minimal science you need to question everything and think for yourself. Please contact us if you have any questions.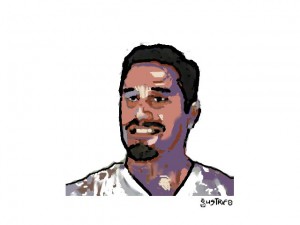 Who am I?
My name is Gustavo; I'm an oceanographer working on a wilder island since 1996. I work as a professional researcher. I'm a family man. I share cartoons and what I've learned about exploring in exchange of smart conversations.
You can connect with me subscribing to this blog or through Facebook or Twitter. If you want to know exactly where am I, click the next link to know where is the Mondragón island located.
(UPDATE: In mid 2013 I formally ended my exploring days and traded them for a new status. At this moment, I am a farmer (an aquaculture farmer, to be precise)