This is not the first time I write about Ben Saunders, the polar explorer (as in not the singer or the fighter).  No inconsistency here since I am a big fun of his achievements as well as his life philosophy.  Last time I posted on his TED conference entitled "Why bother leaving the house?" where he encourages us all to open the door just a little bit and take a look at what's outside.
For those of you who don't know Ben, he is famous for being the youngest explorer (and the third in history) to  reach North Pole, skiing solo  in 2004 (and for blogging live from his expeditions). Ben and his teammate Tarka L'Herpiniere are currently preparing the Scott Expedition, which aims to honour commander Robert Scott's and his Terra Nova Expedition.
From the Scott Expedition page: The Scott Expedition is a 1,800-mile (2,900km), four-month unsupported return journey from the coast of Antarctica to the South Pole on foot following Scott's exact route. Equivalent to 69 back-to-back marathons, the team will face temperatures as low as -50 °C and will haul sledge loads of up to 200kg each.
So, what would such an adventurous character advise us, frugal explorer in our quest to find a way to regain our sense of wonder?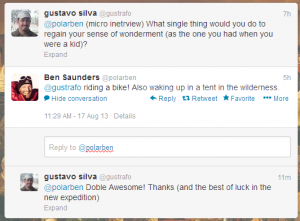 Ben was kind enough to answer (via twitter) the same question I made to other experts: What would you do if you wanted to regain your sense of wonderment (as the one you had when you were a kid)?
This was his answer:
Riding a bike! Also, waking up in a tent in the wilderness.
Regarding the later part of the answer, waking up in a tent anywhere different from your comfy bed (not to mention in the wilderness) would definitely turn your autopilot off, and so, it goes along very well with what we have previously discovered in our quest.
But i have to say that riding a bike is an activity I wouldn't have considered. This is very interesting because "riding a bike" is the same answer that other famous adventurers have given to me, in exactly the same context, as you'll witness in the next posts.
Maybe is time to think about that activity that, supposedly, we haven't forgotten.