Still immersed in the task of gathering information about how to regain our sense of wonder, and I decided to contact Alastair Humphreys via Twitter.
- "No kidding? Alastair Humphreys, the famous adventurer and writer?" Doris asked.
- "The same one," I said.
- "And, what did he say?"
- "He said:  watch the sun rise from the top of the hill"
Doris thought about it for a second.
- "I have to start thinking differently about sunrises," she said.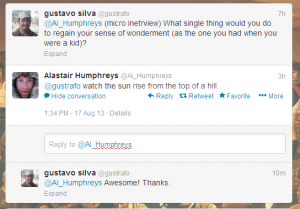 Making a small bio for those of you who haven't heard about Alastair is a hard thing to do; you don't want to leave any fact out and they are just  too many good ones.
Any of the following accomplishments would do:
* Called "Adventurer of the Year" by the National Geographic.
*  He walked and packrafted across Iceland.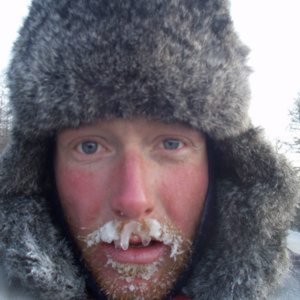 * Rowed across the English Channel with Major Phil Packer to raise £1million for Help for Heroes
* Walked across India.
* In 2012 he joined Marin Medak, Simon Osborne and Steve Bowens to row unsupported across the Atlantic Ocean. The team successfully finished their journey in Barbados after 45 days and 15 hours at sea.
I guess the best way to know the guy is by looking at him walking through  the Empty Quarter desert  . Take a look at the kind of life he likes to experience by watching this next video.

Into The Empty Quarter – Official HD Trailer from Alastair Humphreys on Vimeo.