Today I'm announcing a new exploration starting here in Frugal Science. It is the main topic of this blog to explore things and places. I had decided a long ago to blog about a complete exploration, from scratch to reaching destination, and back home to end with the relevant conclusions; so, here we go!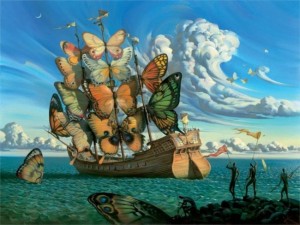 First, I just wanted to pick a simple destination like: the nearest shore or the nearest mountain, but this year has come with many unexpected surprises so, I decided to pick an even closer destination:
After making a list of 10 possible points of interest, I asked my youngest son to randomly pick one, and the selected one was… dreams.
Exploration destination: the realm of dreams.
Objective of the exploration: answer the question: Why do we dream?
This is a big challenge for FS because, as you may recall if you are one of my dear followers, the two main principles for exploring, according to FS, are to keep your eyes open and question everything.
It's going to be hard to dream while keeping your eyes opened, especially if you are the one has to do the dreaming part. We'll sort that problem when we reach to that bridge.
The first stage will be recollecting the relevant data. We will be paying much of the attention to what Neuroscience is up to these days about the subject but, we will not leave out Psychology,  History and Dream Interpretation.
We will start with Freud and Jung, to get a grasp of the matter (I must confess that my knowledge about the subject is rather poor, at this moment).
Dreams are a big mystery. The fact that we all dream in a daily basis makes it look like a common feature, but they are still a big mystery.
I know many of you are very well-informed about this dreaming subject. I would much appreciate any suggestion, advice or warning. Feel free to write your mind in the comment area.