Exploring whatever you want: the woods, your own backyard, the city -you may explore the world, your inner world or the virtual world …really, whatever you want-, is the main subject that has being covered lately here in Frugal Science.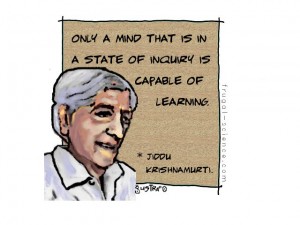 In this article you will find a discussion based on your very own comments and a referral to a mysterious book that made a big impression on me, a long time ago. Let me start with the book:
The perfect explorer handbook.
I found this book when I was fifteen years or so. I was very into exploring and that cocky title seduced me. The book was very well written and I enjoyed it a lot but, it was full of philosophical stuff that did not appeal to me at the time.
It said things like: "exploring has nothing to do with being reckless" and "the only thing to learn about dealing with sneaks is to not get bitten" (for a better understanding of these statements, click on any of the preceding links to a previous article).
At that time I was awed by the heroic stories of Captain Robert Scott, Jacques Cousteau, Jane Goodall, Lewis & Clark and David Livingstone, and what the book proposed had nothing to do with adventure and heroism. I read it and put it away.
Once I experienced working as a professional explorer and learned what exploring was really about, I realized that the lessons written in that book was more than just amusing: much of its advice made sense then. I tried to read it again but I never found the book.
That's why I called it a mysterious book: I really took time to find it using many resources but it seemed to be disappeared from the planet.
The point in telling you this story is one phrase that the book contained which I think it explains by itself: "…You need two things and two things only to become a true explorer: mindful attention and some frugal science. Anything else is accessory…"
(No, it is not a coincidence with the title of this blog, if you are wondering)
In the prior post about exploring, I received many great comments from you (the most, so far, for a FS article). And –could not have being different- some of them provided with great insights and lessons about exploring.
One idea became recurrent among your comments: the natural exploration ability that small children possess. And so, connecting with the two things you need to become an explorer proposed before, I decided to write about some suggestions for training our mindfulness.
Here is the first one: guiding a toddler
Toddlers are naturally mindful and guiding a son, a daughter, a nice, or a grandson through discovering anything is a great learning opportunity for both the child and the grown up.
This is not something new for parents with toddlers. The honestly awed look and the accuracy with which young children apply themselves when inquiring about something never stop to amaze us.
If you haven't had the experience, I totally recommend it. If you are single, grab a young nephew or nice, or the neighbor's toddler for fifteen minutes (asking for parents permission might be a good idea in this cases) and go through the experience of observing… anything (clouds, leaves, ants, anything).
You will first notice the toddler's reaction: a pure sample of human capacity of astonishment (capacity that we seem to have lost somewhere in our road to adulthood). And then, by comparing, you might notice your (lack of) reaction inside of you.
What do you think produces the difference between the toddler and you?
The conversation in now opened…